MegaFlow 3/8in High-Speed Recovery Hose
Increase the speed of your refrigerant recovery process by using the MegaFlow 3/8in High-Speed Recovery Hose.
Features and Benefits
Larger Hoses for Refrigerant Recovery

Even when restricted by 1/4in system ports, using a 3/8in hose greatly reduces resistance and increases potential flow.
Don't believe us? Click the link --> Full Flow to learn more about reducing recovery times. Save Hours, save Days, save Money.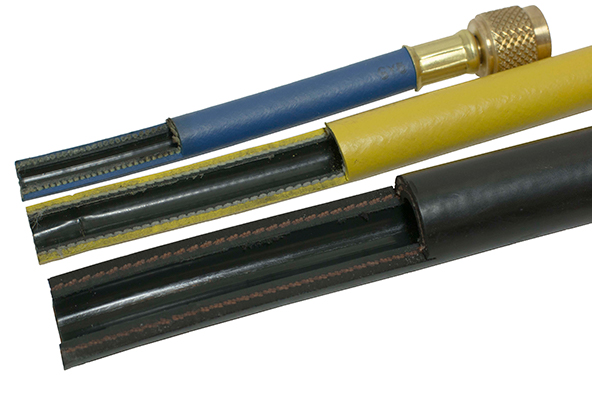 Are your Tools Rated for Vacuum and Pressure?
All MegaFlow Hoses are Vacuum-Rated to 20 microns and designed for high pressure refrigerants, such as R410A. This will give you the peace of mind that your tools aren't going to leak in a deep vacuum or during critical parts of the recovery process.
Additional Product Material
Technical Bulletins

Always wear gloves and eye protection and follow proper safety practices when handling refrigerant.
For California Consumers:

ONLY AVAILABLE FROM YOUR PREFERRED LOCAL DISTRIBUTOR.
ASK FOR APPION PART# MH380006AAY
Important Notice: Buying from unauthorized online sellers could void your products warranty. This policy shields customers from acquiring pre-owned, damaged, or stolen items. Please be aware that Ebay and Amazon are NOT approved distributors.