MegaFlow 3/8in High-Speed Dual-Purpose Hose
Increase the speed of your refrigerant recovery machine or evacuate small Ductless systems with ease using the MegaFlow 3/8in High-Speed Dual-Purpose Hose.
Features and Benefits
Large 3/8in Internal Diameter for superior performance
Ultra-flexible for easy connections in tight spaces (small Ductless systems)

Full Flow - more flow than a restrictive 1/4in charging hose

Rated for use with R410A and all common refrigerants

4000 psi burst and 800 psi working pressure

Dual-purpose - Dedicate a set for recovery or evacuating sytems with hard to reach fittings
Vacuum-Rated to 20 microns

Won't permeate or collapse in a vacuum

1/4in FL and 3/8in FL fittings make it easy to connect to the Appion Speed-Y, Appion Valve Core Removal Tools and most vacuum pumps
Larger Hoses for Refrigerant Recovery or System Evacuation
Even when restricted by 1/4in system ports, using a 3/8in hose greatly reduces resistance and increases potential flow.
Don't believe us? Click the link --> Full Flow to learn more about reducing recovery and evacuation times. Save Hours, save Days, save Money.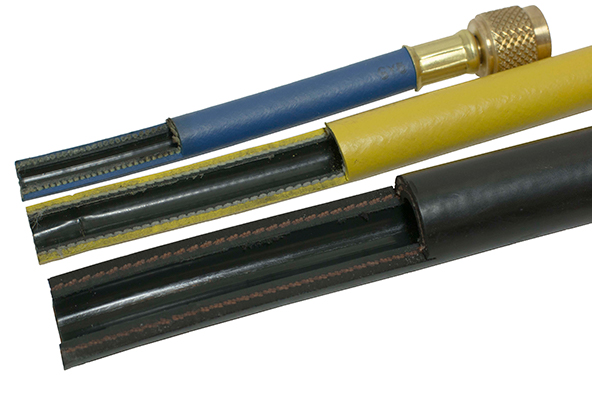 Are your Tools Rated for Vacuum and Pressure?
All MegaFlow Hoses are Vacuum-Rated to 20 microns and designed for high pressure refrigerants, such as R410A. This will give you the peace of mind that your tools aren't going to leak in a deep vacuum or during critical parts of the recovery process.
Additional Product Material
Technical Bulletins

Always wear gloves and eye protection and follow proper safety practices when handling refrigerant.
For California Consumers:

ONLY AVAILABLE FROM YOUR PREFERRED LOCAL DISTRIBUTOR.
ASK FOR APPION PART# MH380006EAR
Click Here to search for your local distributor