Simple, Economical Refrigerant Recovery
The G1Single's simple, robust single cylinder design makes it the most reliable single-cylinder unit ever made. Ideal for use on residential and light commercial recovery, the G1 Single offers recovery rates comparable to pumps twice it's size. Featuring ultra-easy one-switch operation, and the same crankcase and turbine fan technology of the G5 Twin all in a single cylinder unit that weighs only 22 lbs!
Features and Benefits
Lightweight - Weighs only 22 lbs
Refrigerant-Isolated Crankcase - eliminating bearing contamination
Automatic Liquid and Vapor Recovery - no throttling
7-inch 10-blade turbine fan @ 3000 rpm blasts over 700 cfm of cooling air
Useful Information
Additional Product Material
Technical Bulletins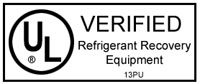 UL certified to meet or exceed EPA regulations per ARI 740-98. For use with all class III, IV, and V refrigerants:
R-12, R-22, R-134a, R-401A, R-401B, R-401C, R-402A, R-402B, R-404A, R-406A, R-407A, R-407B, R-407C, R-407D, R-408A, R-409A, R-410A, R-411A, R-411B, R-412A, R-500, R-502, R-507, R-509

Always wear gloves and eye protection and follow proper safety practices when handling refrigerants. See these Tech Bulletins for more information.
For California Consumers:

ONLY AVAILABLE FROM YOUR PREFERRED LOCAL DISTRIBUTOR.
ASK FOR APPION PART# G1SINGLE
Important Notice: Buying from unauthorized online sellers could void your products warranty. This policy shields customers from acquiring pre-owned, damaged, or stolen items. Please be aware that Ebay and Amazon are NOT approved distributors.
Click Here to search for your local distributor