MegaFlow 1/2in High-Speed Evacuation Hose

Achieve the true potential of your vacuum pump with the MegaFlow 1/2in evacuation hose.

Features and Benefits
Vacuum-Rated to 20 microns
Larger 1/2in Internal Diameter for superior performance
Ultra-flexible for easy connections in tight spaces

Won't permeate or collapse in a vacuum

Full Flow - 16x more flow than a restrictive 1/4in charging hose
1/4in FL and 3/8in FL fittings make it easy to connect to the Appion Speed-Y, Appion Valve Core Removal Tools and most vacuum pumps

3200 psi burst and 640 psi working pressure
Larger Hoses for System Evacuation
Even when restricted by 1/4" system ports, using a 1/2" hose greatly reduces resistance and increases potential flow. This is especially true during system evacuation. Just using one 1/2" hose with 1/4" fittings can result in one tenth the evacuation time compared to one 1/4" hose.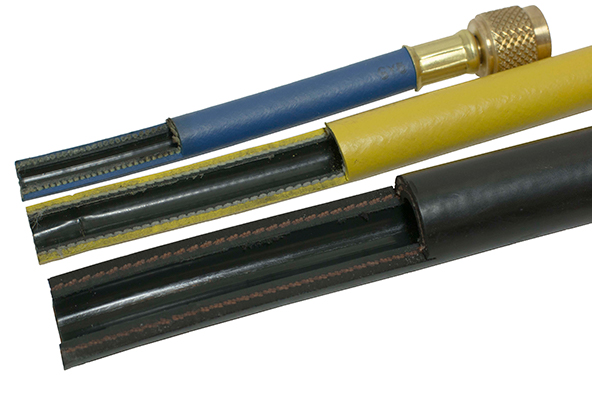 Or look at it the other way: using a 1/4" hose can make an evacuation take up to 10 times longer than using 1/2" hoses
Are your Tools Rated for Vacuum?

Tools and fittings that aren't Vacuum-Rated can leak under deep vacuum. All of the MegaFlow hoses are Vacuum-Rated to 20 microns, giving you the peace of mind that your tools aren't going to leak in a deep vacuum.
Additional Product Material
Technical Bulletins

Always wear gloves and eye protection and follow proper safety practices when handling refrigerant.
For California Consumers:

ONLY AVAILABLE FROM YOUR PREFERRED LOCAL DISTRIBUTOR.
ASK FOR APPION PART# MH120006EAK
Important Notice: Buying from unauthorized online sellers could void your products warranty. This policy shields customers from acquiring pre-owned, damaged, or stolen items. Please be aware that Ebay and Amazon are NOT approved distributors.
Click Here to search for your local distributor